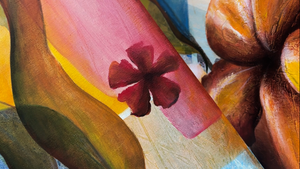 Acrylics on Canvas | 76 x 144 cm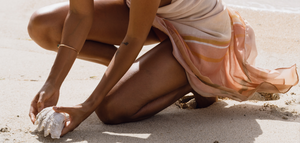 spend over $300 and enjoy
Simply use the code over-300 at checkout
Dedicated to fine art & designing a life we love.
Featuring 100% Maldivian art and design, Oevaali Art Shop is a premier and locally-loved lifestyle brand of art and products in the Maldives, delivering across the world.
timeless and elegant
The Manta Ray Pendant
Manta Rays are  an icon of the Maldives. From the humble Reef Manta Ray to their more elusive cousins, the Giant Oceanic Manta Ray, these marine behemoths have a safe haven in our crystal clear waters. As artists, we draw inspiration from the ocean and the Manta Ray's silent flight in our waters have been awe inspiring.
Our Manta Ray pendants are designed to immortalise these beautiful creatures in all its graceful glory. Be it elegant nights, or a day by the sea, they can be worn effortlessly for any occasion. 
In support of conservation through research, education and collaboration, Oevaali Art Shop has been partnering with the Manta Trust towards a sustainable future for the oceans, where manta rays and their relatives thrive in healthy, diverse marine ecosystems.
shop now
complimentary gift box
Home Fragrance Gift Set
The Premium Gifting service includes a fitted arrangement of our latest range of Home Fragrance products in our elegant rigid box, with your choice of scents:
1 x 45-55 hr Coconut Soy Candle
1 x 200ml Reed Diffuser
1 x 100ml Room Spray
Shop gift sets
ALL NEW
Littles Collection
A charming assortment of designs specially for the littles in our lives; from cozy soft blankets, ponchos and loveys to playful nursery art. Explore our lovingly crafted Littles Collection for a touch of whimsy and imagination.

Littles Collection
GIFTING MADE SIMPLE
Gift Sets
Ready-made Gift Sets. Choose from our collection of curated boxes, closed with a matching ribbon.
The Premium Gifting service includes arrangement, shredded black tissue, and a note card, closed with a ribbon gift bow to make your gifts absolutely unforgettable.
SHOP NOW
Auriga Sarong
This design is created with the colours and markings of the beautiful Auriga Butterflyfish. Its body is white with dark markings, a belly patch of descending oblique dark lines and bright yellow fins.
view
Picasso Sarong
The Picasso Triggerfish show some of the most beautiful and vibrant colours on their bodies. With abstract lines running down on its sides, it makes different tones of colours work together. 
view
Labridae Sarong
With olive to blue-green on their body and irregular lines on the head, the Napoleon Wrasse is the king of the coral reefs. These giants are things of beauty belonging to the Labridae family.
view
IN COLLABORATION WITH MANTA TRUST
Manta Ray Sapphire
In support of conservation through research, education and collaboration, Oevaali Art Shop is thrilled to partner with the Manta Trust towards a sustainable future for the oceans, where manta rays and their relatives thrive in healthy, diverse marine ecosystems. 5% of your purchase of the Manta Ray Sapphire Pendant is donated to the Manta Trust & their work for our oceans.
VIEW
Wedding & event favors
To illuminate your decor with elegance and warm the hearts of your guests when they take them home. Our fragrance products can be customised to complement your event style.
details
Book an appointment
Working with Oevaali Art Shop starts with 100% Maldivian art and design, internationally sourced premium ingredients, crafting and putting it all together exclusively for you.
book
★★★★★

Coco Privé Private Island had the pleasure of working with Oevaali Art Shop to conceptualise and craft a selection of bespoke silk scarves. Following a detailed brief, the team handled the entire project over a three to four-month period. Their responsibilities include budget management, concept and design development, sourcing of materials, liaising with international suppliers, overseeing production, and quality checking of final items. We were impressed by their sheer professionalism, efficiency and approachability. Their ability to handle such a complex project unanimously confirmed to us that the Oevaali was a trustworthy and reliable partner. Coco Privé looks forward to once again collaborating with Oevaali Art Shop in the near future.

Coco Prive Private Island, Maldives
★★★★★

Innovative, quality, inspiring are just a few expressions I would use to describe the excellency of the artwork of Oevaali Art Shop. Kuramathi had the idea of providing a Maldivian cultural event during our busy festive period and Raniya knew exactly what we were looking for. A few stands with local hand art craft and some cultural expositions with local painters and sculptors, a full set up of a Maldivian traditional village, its roots with music and dance and then discovering the real avant-garde and trendy artwork of Raniya and her team made the entire venue one of our biggest success stories. 

Mr. Alain Trefois, Cluster Director of Operations for Kuramathi, Kandolhu & Maafushivaru, Maldives
★★★★★

Oevaali Art Shop always manages to capture our vague ideas and bring them into beautiful creations. Over the years they've expanded and ventured into many lines; never straying away from the path so recognisable to both international and local clients. Customer service is an epitome of what Oevaali offers; great vision, execution and follow up services. We are proud to be working alongside Oevaali and have their products not only in Kuredu, Komandoo, Hurawalhi and Kudadoo private residences.

Ms. Prisma Limbu, Area Retail Manager for Hurawalhi Maldives, Kudadoo Private Island Maldives, Kuredu Resort Maldives & Komandoo Maldives.
★★★★★

The notebooks branded with Hotelier Maldives logo arrived on time and proved very popular with all the delegates and we are thinking of producing more of the same... And certainly this is not the last time we will commission Oevaali Art Shop.

Hotelier, Maldives
★★★★★

The Resin Art you have produced for us is quite remarkable and brilliantly encapsulates the natural beauty of the Maldives, we wanted to present to the Minister of External Affairs for the Government of India, H.E Dr. Subramamyam Jaishankar.

Ministry of Foreign Affairs, Maldives
★★★★★

Creations by Oevaali Art Shop are in a class of its own - every piece is exquisitely crafted and emanate the emotion behind the making. This is "the" go to place for authentic artifacts created by Maldivian talent.

Ahmed Adhly Rasheed, Executive Director of Islanders Group, Maldives
★★★★★

Oevaali Art Shop collections caught my heart when I had the opportunity to visit their very first exhibition in Male' and saw a wide range of its art. When I learned that they do custom-made pieces, I jumped on the opportunity and ordered a painting.

Shoko Noda, UNDP Resident Representative to the Maldives
★★★★★

The stunning colours of 'Haven' made me feel enveloped again in the deepest blues of the ocean I encounter during dives around the Maldives, both warm and mysterious. 

Mr. Ferdinand Von Habsburg-Lothringen, United Nations Peace & Development Advisor
Oevaali Art Shop, Sosun Magu, Male' 20076, Maldives.
Saturday - Thursday
10:00am - 6:00pm
8:00pm - 10:00pm

Friday
Closed